On May 18, the Institute of Anthropology (IADC) was pleased to welcome a group of 15 survivors from the Archdiocese of Munich and Freising, Germany at our offices in Villa Malta. 
Their pilgrimage, which is titled, "Wir brechen auf! Kirche, bist du dabei?" ("We are setting out! Church, are you with us?"), culminated with a meeting with Pope Francis during his weekly general audience in St. Peter's Square. 
The pilgrimage was organized, among others, by Dietmar Achleitner, Richard Kick and Kilian Semel, members of the Advisory Council for Abuse Victims and Survivors in the Archdiocese of Munich and Freising and Robert Köhler from the initiative "Wir-wissen-bescheid.de" of the victims of the Ettal monastery.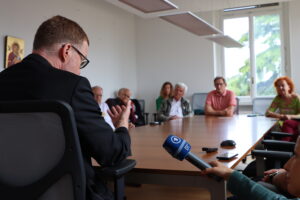 Upon their arrival at the IADC, the group was welcomed by Father Hans Zollner, S.J., director, and staff members. 
During the two-hour meeting, the survivors spoke with Father Zollner about their experiences, as well as about sexual abuse prevention and the common goal of building a safer Church. They also asked about the institute's programs and initiatives in safeguarding. 
"We are happy to have this meeting with Father Zollner and the IADC team and we hope the work here can help to bring about change and a strong commitment in the fight against sexual abuse in the Catholic Church," Mr. Kick said.  
"We are grateful to have Father Zollner as a great supporter of survivors of abuse," he added.