In 2020, I graduated from the Centre for Child Protection's Licentiate in Safeguarding program, thereafter, continuing my work as Acting Regional Manager for the Catholic Education Unit in the Diocese of Navrongo-Bolgatanga, Ghana. In my current position, I have the privilege of supervising 356 schools in the Upper East and North East Regions of Ghana, while at the same time implementing the safeguarding tools I took with me from the Gregorian.
Since returning to my home country, I have been quite impressed to see that the pandemic has not slowed my continent's efforts in safeguarding. I've taken part in facilitating workshops and webinars on the subject of child protection all across Africa. One such webinar was publicized here. One workshop in particular was offered to some Ogoni priests in Nigeria. Entitled Cultural & Contemporary Challenges to Priestly Ministry Today, this workshop delved into cultural realities that impact safeguarding measures and the risks present within their culture that make abuse possible. Counting all attendees of the workshops I've held since last summer, I've been able to work with about one hundred people from all across Africa.
I saw a particular need for safeguarding discussions in my own area, and worked with a number of parents and students to broadcast a radio show on the importance of safeguarding measures in homes, schools, and communities in general. This was transmitted in the local language, allowing it to be quite accessible to our audience. Furthermore, I had noticed the number of pregnancies amongst our female students increase during the lockdown, as many girls were forced into early marriage by their families. To try to remedy this, there was a training session on safeguarding in which more than one hundred parents participated. I was happy to see that so many parents showed concern for this matter and these young girls! For the girls in particular, I created a training manual for these girls––along with a facilitators handbook for teachers who accompany them––which aims to teach them how to be assertive in the face of these great challenges they face.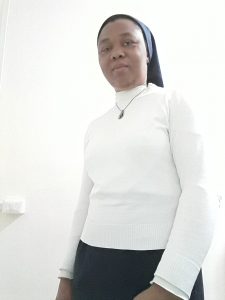 Contribution made by Sr. Bernardine Pemii