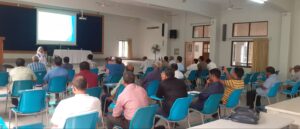 Report by Father Anol Terence D'Costa, CSC, of the Child Protection Policy Desk of the Justice and Peace Commission at the Diocese of Barisal (Bangladesh).
 A training course on the "Safeguarding of Minors" was organized by the Catholic Bishops' Conference of Bangladesh on October 24-26, 2022 at the CBCB Center in Mohammadpur, Dhaka, Bangladesh. Dr. Sister Mary Henrieta, SMRA and Mr. Shishir Anjelo Rozario led the course.
Sister Henrieta and Mr. Rozario are graduates of the Diploma in Safeguarding program of the Institute of Anthropology (IADC) at the Pontifical Gregorian University in Rome.
Thirty priests from the eight dioceses of Bangladesh, as well as several priests from various religious congregations, attended the training course.
The three-day course, divided into 12 sessions led by Sister Henrieta and Mr. Rozario, included group sharing and open discussions regarding various case studies related to the issue of safeguarding.
Both IADC alumni also led a two-day training course for deacons in Bangladesh.
After concluding the training course, participants will in turn continue training others in their respective dioceses to ensure that the voices of victims are heard and that the safeguarding of children and vulnerable persons remain at the center of the church's mission.