Felicitas Twickel from ZDF (Second German public Television channel) flew in from Berlin. She spoke with me about the movie "Verfehlung/ The culpable". The film, that will be soon in movie theatres in Germany, tells the story of three priests who are friends and work together. Then one of them is accused of the sexual abuse of two boys. The ensuing inner struggle of the other two as well as their opposite conclusions – one thinks that all should be kept under the carpet, the other finally decides to report to the state prosecutor – is depicted in great depth and a realistic way.
The interview will be part of a progamme in ZDF on 6th of March 2015, 23:00 hrs.
After the shoot in the Gregorian University, the film crew went over to the CCP-office where they filmed the team members at work!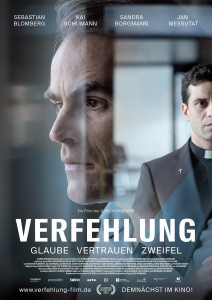 Felicitas Twickel vom ZDF-Magazin Aspekte kam aus Berlin, um mit mir über den Film "Verfehlung/ The culpable" zu sprechen. Der Film, der bald in den deutschen Kinos laufen wird, erzählt die Geschichte von drei Priestern, die befreundet sind und miteinander arbeiten. Dann wir einer von ihnen des sexuellen Missbrauchs an zwei Jungen angeklagt. Der innere Kampf der beiden anderen und ihre entgegengesetzten Schlussfolgerungen – der eine denkt, man soll alles unter den Teppich kehren, der andere entschließt sich letztendlich, Anklage bei der Staatsanwaltschaft einzureichen – ist in großer Tiefe und realitätsnah dargestellt.
Das Interview wird während einer Aspekte-Sendung im ZDF am 6. März 2015, 23 Uhr, zu sehen sein.
Nach den Aufnahmen in der Gregoriana filmte die Crew unser Team bei der Arbeit im CCP-Büro!
Fr. Hans Zollner SJ
CCP President