Two weeks ago, the Child Dignity in the Digital World Congress met with Pope Francis for the closing session of the Congress. (The official Vatican pictures are now online in two parts: photos of the audience, photos with the participants.)
Remembering an important meeting.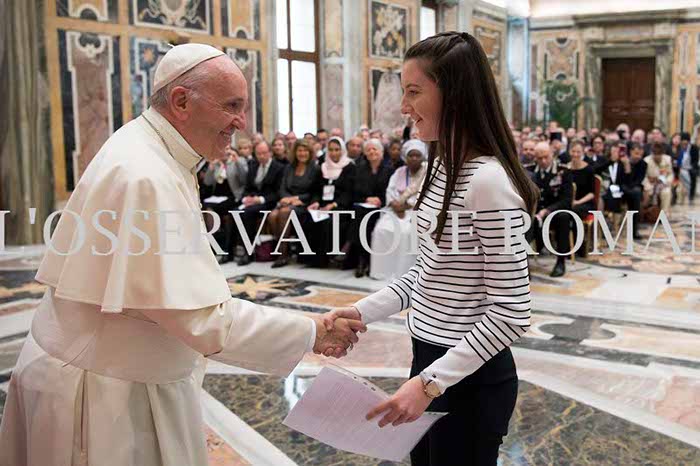 On this occasion, a young representative of the congress read out a summary to the Holy Father of The Declaration of Rome, a fruit of meeting's work. The Holy Father responded with a powerful address. This talk  summed up the grand themes of the Congress in his own words. At the end of the encounter, Pope Francis took time to greet each of the participants, listened to concerns, gave blessings and even posed for selfies. We encourage those who are following the work of the CCP to read the above documents to stay in touch with with this imporant aspect of our work: Safeguarding Online.
The Congress has now concluded and the participants have all returned to the different sectors and nations from which they came, but an important network continues. Those participants with a LinkedIn account are connected online through a LinkedIn Child Dignity in the Digital World discussion group. Speakers and respondants are sharing their papers and ideas among themselves via Dropbox.  An important repository for the Congress press roundup, the Conference section of the CCP website retains imporant links to articles written about the event. Certainly more people remain in touch through email, via Facebook and Twitter. (And we thank you for connecting with us also!)
Where do we go from here?
Certainly a first response to this question is already well underway: greater collaboration, communication, and awareness of what good things people are already doing to end the exploitation of children and stop the facilitation of abuse online. Yet many experts present at the congress pointed out that those safeguarding measures have been put into place that still need to be studied. Which means have been most effective? What studies can we point to to show what works and what doesn't, for instance, to build resilience in children to online dangers? The CCP, under the umbrella of the Institute of Psychology of the Pontifical Gregorian University, continues to brainstorm along these lines and is encouraging students who would like to do the same.